Products Spotlight
THE MAGIC FORMULA OF OUR NATURAL LAUNDRY SOAPS
To guide you towards a lifestyle that respects the needs of the whole family, we have created effective laundry soaps with 100% clean formulations. Discover their superpowers, as well as valuable tips to make the best possible use of them.
LOCALE AND RESPONSIBLE
MADE IN FRANCE
To take care of your laundry and respect even the most sensitive skin, we have designed natural laundry soaps made in France using an ancestral method.

Thanks to the action of saponified natural oils, our laundry soaps bring freshness and cleanliness to all your textiles, for the whole family.

Their addictive fragrances are created by master perfumers, using high-quality raw materials carefully selected for their harmlessness.
NATURAL & EFFECTIVE
FOR ALL TYPES OF TEXTILES AND THE WHOLE FAMILY.
PALM OIL-FREE AND SULFATE-FREE
RESPECTFUL OF SENSITIVE SKIN
To offer you a responsible alternative to traditional laundry soaps, our formulation is reassuring, free from irritating, aggressive ingredients with incomprehensible names.
To take care of your most delicate textiles and keep a watchful eye on the most sensitive skin, our laundry soaps are formulated without any compromise on the quality of the raw materials used. We have excluded sulfates, EDTAs, bleaching agents, palm oil and petroleum-derived mineral oils from our formula, which are all too common in industrial laundry soaps.
Tested under dermatological control, our laundry soaps are perfectly suitable for sensitive skin.
A MAGICAL FORMULA
SOFTENING AND SOOTHING
Perfect for both washing machine and hand washing, our natural laundry soap preserves the beauty of your favorite clothes and provides long-lasting freshness to your laundry.
Recognised for their protective and repairing properties, the coconut and olive oils in our laundry soaps nourish the fibers, enhance color vibrancy, and soften the linen.

You do not need to add fabric softener, 
our formulation takes care of it wonderfully!
OUR WONDERFUL FRAGRANCES
A LITTLE ADDICTIVE!
In addition to providing brilliant cleanliness to all your textiles, our laundry soaps are beautifully scented, so that washing and hanging your laundry is a moment of pleasure and escape. Our fragrances are created by master perfumers using high-quality raw materials carefully selected for their safety.

Our laundry soaps and their olfactory blend include:
- Méga Propre, cedar & rose,
- Super Frais, cedar & ylang,
- Giga Doux, cedar & sandalwood,
- Place des Vosges, rose & geranium,
- Petit Grain, neroli & orange blossom,
- Maille Câline, violet & cotton,
- Gym Tonique, citrus & juniper.
FRAGRANCE IS AT THE HEART OF OUR STORY!
Regardless of our products, fragrances are at the heart of our collections. Our everyday lives are full of evocative fragrances, which are our greatest inspiration. That is why we have extended your favorite laundry fragrances to various products, to perfume your home, your linen and even your body.
OUR ADVICE FOR USE
TO TAKE CARE OF YOUR WASHING MACHINE AS WELL
First, it is important to know that our washing machines often get clogged from using conventional laundry soaps, fabric softeners, or even homemade laundry soaps.

Before you start using our natural laundry soaps, we recommend doing a thorough clean-up of your washing machine to fully enjoy the fragrances they offer!

How to proceed: run an empty cycle at 90 degrees Celsius with 1 liter of white vinegar, then clean your reservoir and the window seal. Your machine will be good as new!
1 LITER = 30 WASHES
Our 1-liter bottles can be used for up to 30 washes, to ensure effective washing at all temperatures.

For optimal use, pour a little more than 30ml or 3 caps of laundry soap into the drawer of your washing machine (no need for fabric softener, as a reminder!).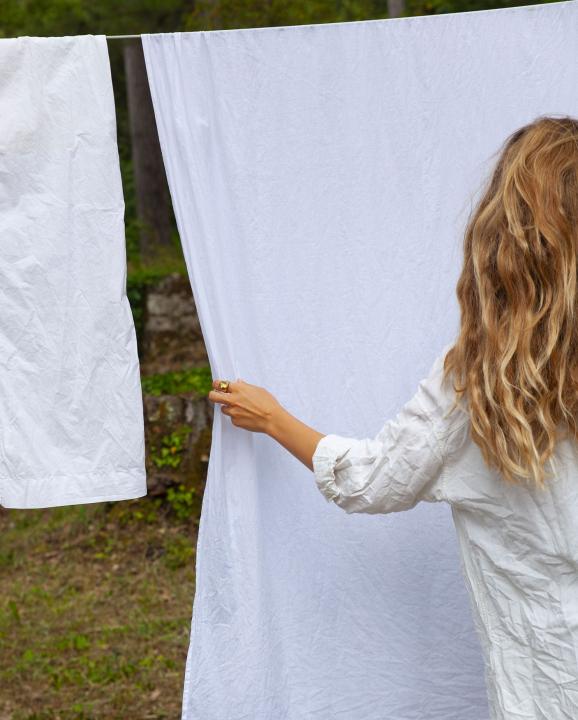 A CONSCIOUS, WELL-REASONED AND POSITIVE
APPROACH!
Our laundry soaps are formulated to biodegrade quickly* without leaving any trace, and our bottles, which are fully recyclable, are made from 100% recycled household waste, so we've come full circle.
The best waste is the one we do not produce, so choose BULK!
To reduce resource waste and further limit our waste generation, we offer a wide range of refillable care products!

Keep the empty bottles of your favorite products and refill them indefinitely by either visiting our Parisian store or sending them back to us.

Find the list of products available in bulk and the detailed procedure on The Loop.
*100% in 28 days (OECD 301)
LET YOURSELF BE SEDUCED BY OUR ULTRA-CLEAN FORMULA AND SUPER ADDICTIVE FRAGRANCES
IT IS TIME TO CHANGE FOR A NATURAL LAUNDRY SOAP!