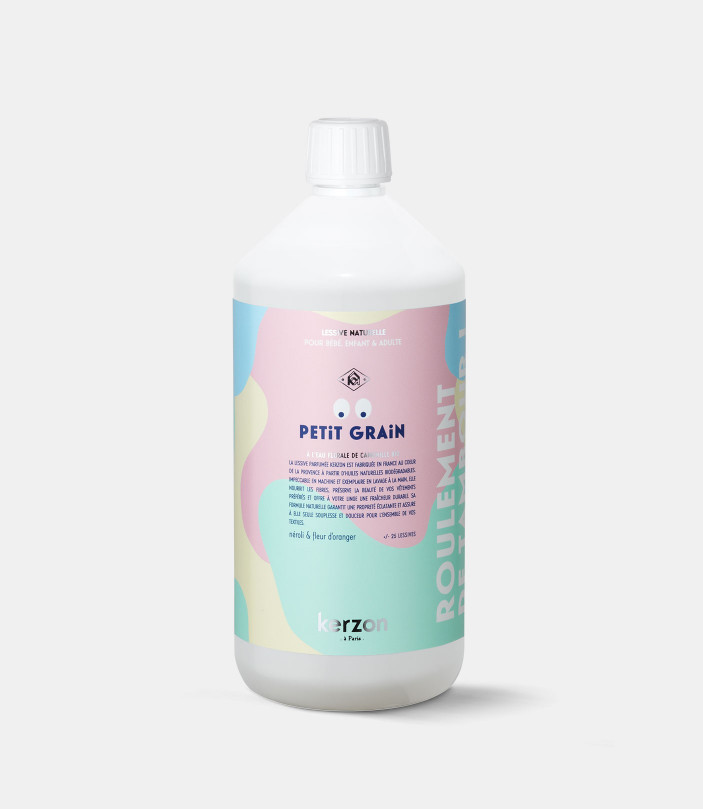 Multi-purpose laundry soap
Petit Grain
The smooth formulation of our Petit Grain laundry soap, enriched with organic chamomile floral water, is perfectly suitable for the skin of babies and children. Tested under dermatological control, Petit Grain laundry soap is non-irritating and respectful of sensitive skin.


THE SCENT
Inspired by children, Petit Grain unveils a fresh scent of citrus fruits: neroli, orange blossom water, bergamot orange and petit grain. Combined with the softness of white musk, the slightly woody base is like a breath on the skin, that makes the whole family happy. 
33.34fl.oz - 30 washes
Kerzon's fragranced laundry soap is crafted in the heart of Provence, France from natural biodegradable oils. Efficient in the machine and wonderful for delicate hand washes, this soap nourishes your clothes' fibers, preserves the beauty of your favorite garments, and provides your laundry with lasting freshness. Its natural formula guarantees a radiant cleanliness starting at all temperatures and protects your textile's supple softness day in and day out. 
The essentials
Softening and soothing formula
Ensures a dazzling clean for all purpose washing
Machine and hand-wash friendly
Bottle 100% recycled from household waste
Perfectly suitable for sensitive baby skin
100% biodegradable formula in less than one month (OCDE 301)
Refillable in store, or by returning your bottle with The Loop
Tested under dermatological control, respects sensitive skin
Formulated with natural coconut and olive oils
Enriched with organic chamomile floral water
Method of use
For an ideal dosage, we recommend you to pour a little over 30ml or 3 caps per wash into the drawer of your washing machine without adding any softener, our formulation does this wonderfully. Find a complete article in our journal, for optimal use <3
Components
5 ou plus, mais moins de 15% savon (soap), parfum (fragrance), glycerin, cocos nucifera (coconut) oil, olea europaea (olive) fruit oil, benzyl alcohol, Chamomilla Recutita (Matricaria) Flower Extract, Potassium Sorbate, Sodium Benzoate, Citric Acid.
Legal labeling
Keep out of the reach of children. In case of contact with eyes, rinse immediately with plenty of water and seek medical advice. If swallowed, seek medical advice immediately and show the bottle label.