Our commitments and convictions
The Kerzon Pact
Pact n.m: solemn agreement concluded between two or more persons. These values ​​make sense, they are our priority. Together, let's be demanding and conclude this pact!
1.
Keeping things natural
Our products are formulated in France with clean raw materials and ingredients of natural origin, which are validated by organic cosmetics. Without compromising on the pleasure of use, we guarantee simple compositions based on healthy active ingredients, essential for the skin. All our ingredients strike a balance between functionality and humanity ! 
2.
Transparency
Our simplified formulations mean we strive for what is essential. To help you master the ingredients of your daily life, all components in our products are clearly indicated on our website and on our labels. We have nothing to hide and are happy to share our choices and beliefs with you.
3.
Proximity
We are very proud to feature French manufacturing. Valuing local resources also allows us to ensure the quality of our raw materials while controlling all stages of production.
4.
Human
We exchange daily with passionate craftsmen and makers to promote their specific savoir faire and expertise, which we consider fundamental to making each collection. Among our group of collaborators is one of the oldest French houses in Grasse, labeled Entreprise du Patrimoine Vivant, with which we compose the majority of our perfumes. As for our iconic scented sachet, its folding is handmade in Paris 13th and manufactured in a social rehabilitation establishment (ESAT*). They are also members of the Kerzon family.
*center providing care through employment for disabled adults 
5.
Fair pricing
Across all stages of a Kerzon product's development, we ensure that the final price is the fairest possible without compromising on quality. This comes from a desire to recognize ourselves in accessible and inclusive pricing. Kerzon's quality promise must be within reach of your daily life.
6.
A sustainable approach
Our collections respect an ecologically responsible and sensible manufacturing process so that our products come from nature and return to it without leaving a trace. That's why, we favor a low-impact and local manufacturing for the betterment of the environment.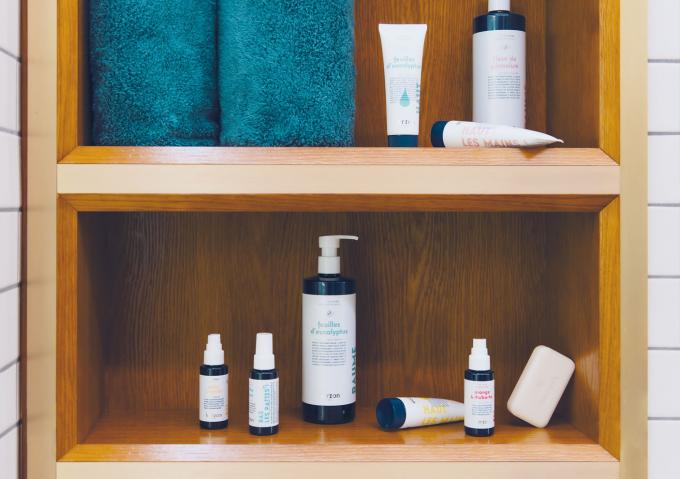 7.
Responsible packaging
Aware of the environmental issues, we favor packaging that are easily recyclable and reusable. Sourced from sustainably managed forests, our paper packaging are printed according to the French labeled printing process called Imprim'vert. For our care products, we have created, light and durable recyclable bottles, whose production is 100% derived from the re-processing of household waste. 
8.
Bulk refilling
Convinced by the importance of reusing, avoiding wasted resources and limiting the production of wash, we push our environmental responsibility commitment even further, by developing our bulk offer which provides filling at will of all your care. 
9.
Authenticity
Regardless of the olfactory concept, we strive to render authentic fragrances, as true as any memory might be. We regularly conduct perfume concentration tests and co-create with Noses who adjust and define the olfactory directions of our collections to obtain the most balanced fragrances for a harmonious and remarkable experience. 
10.
Excellent materials
A demanding selection of raw materials is essential for creating harmonious and lasting compositions. We unearth olfactory treasures from nature and work alongside our team of Noses to create a complex and surprising set of olfactive pyramids. Our perfumes are textured, composed to evolve around you, on your skin, or in your interior. The first evocative impression gives way to a generous awakening. Each is conceived to offer you a lasting and precious moment. 
11.
For the whole family
Kerzon is a family story. Meeting and sharing are the essence of celebrating the desire to be together. In order to continually move toward these values, our collections are designed to satisfy both the smallest and the biggest members of each household, respecting all skin types and sensitivities.
12.
Cruelty free
We strongly condemn any form of animal abuse and refuse in our formulas any ingredient that could have been tested on animals. Obviously, no product is tested on animals, it is prohibited in Europe since 2013.
13.
Pleasure
Whether it comes down to the fragrance, the use of our products or their compositions, all of these elements are imagined for cultivating joy. They are small useful items for feeling good. We defend a simple pleasure, surely the most fascinating type we have experienced to date.