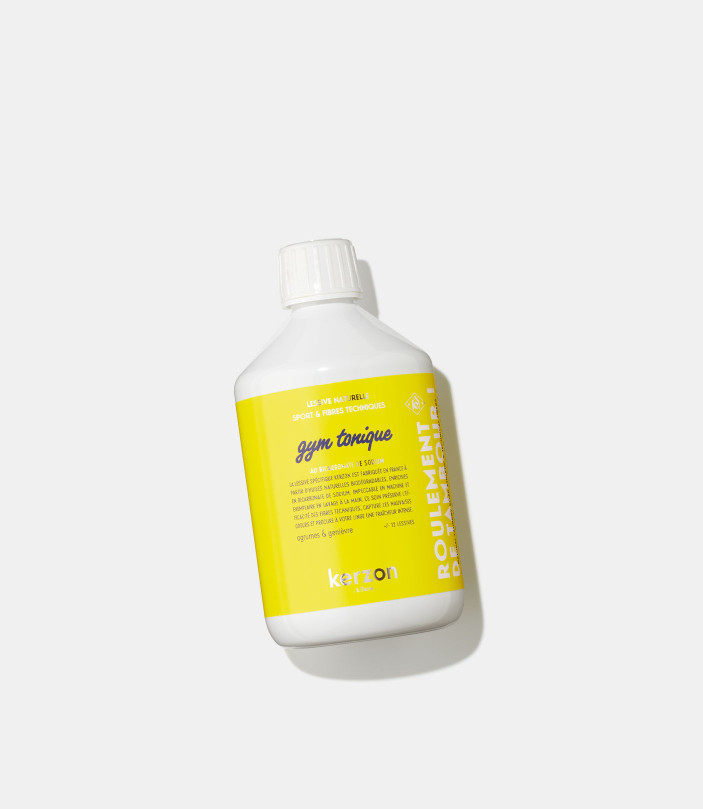 Specific laundry soap
Gym Tonique
The specific formulation of our laundry soap accompanies the intensity of your sporting outings by offering your clothes a fresh and lasting care. Combined with coconut and olive oils, baking soda captures bad odors and guarantees extraordinarily efficient cleanliness while preserving the fibers' technical properties.
THE SCENT
Stimulating and robust, Gym Tonique scent  is based on a fresh and invigorating citrus blend associated with notes of clean "soap bubbles" on an ultra-technical woody base of musk and juniper, to smell good until the final sprint.

Tested under dermatological control, Maille Câline laundry soap is non-irritating and respectful of sensitive skin.
16.67fl.oz

Concentrated with fantastic ingredients, Kerzon's specific laundry soap is made in France using natural biodegradable oils. Efficient in the machine and wonderful for hand washes, it nourishes the most delicate fibers, preserves the beauty of your favorite clothes and provides your laundry with an extraordinarily efficient level of care that is adapted to the needs of your favorite textiles. Its natural formula guarantees your clothes a radiant cleanliness and vivid freshness.
The essentials
Softening and soothing formula
Perfect for the most sensitive types of skin
Bottle 100% recycled from household waste
Preserves the effectiveness of technical fibers of your textiles
Enriched with baking soda to neutralize bad smells
Enables around 12 washes
100% biodegradable formula in less than one month
Refillable in store, or by returning your bottle with The Loop
Method of use
For an ideal dosage with minimum impact on the environment, we recommend using the equivalent of one measuring cap by wash. This bottle allows you to perform up to 12 washes.
Components
5 ou plus, mais moins de 15% savon (soap), parfum (fragrance), glycerin, cocos nucifera (coconut) oil, olea europaea (olive) fruit oil, benzyl alcohol, amyl cinnamal, citral, citronellol, eugenol, limonene, linalool.
Legal labeling
Keep out of the reach of children. In case of contact with eyes, rinse immediately with plenty of water and seek medical advice. If swallowed, seek medical advice immediately and show this bottle.