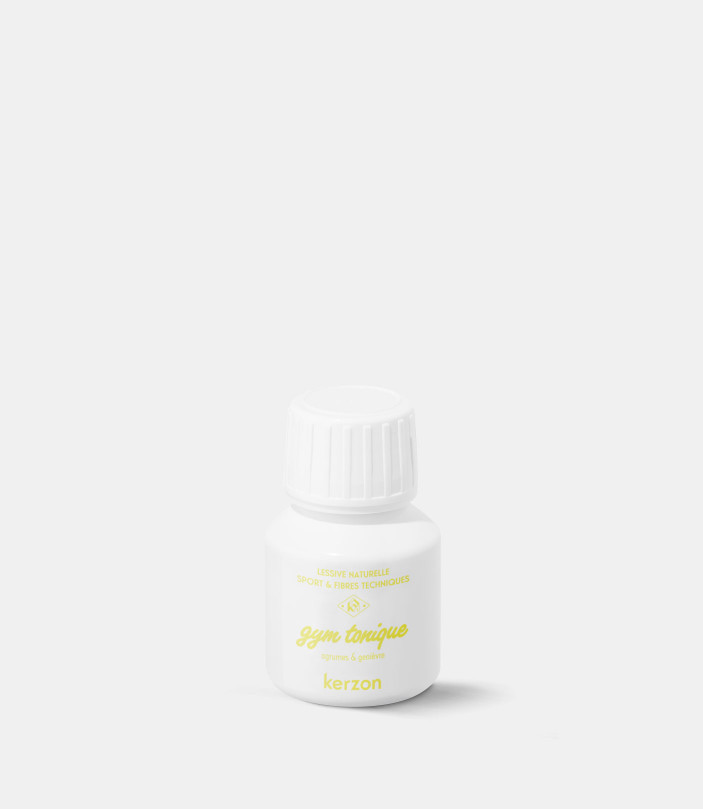 Specific laundry soap
Gym tonique
Like the sweet innocence of childhood, the Super Frais fragranced laundry soap brings back memories of baby perfumes and the pleasure of wrapping yourself in freshly washed sheets, with a slightly aniseed citrus head and a honeysuckle heart on a cedar and ylang base.

Dermatologically tested, our laundry soaps are non-irritating and respectful of sensitive skin.
1.69fl.oz

Concentrated with fantastic ingredients, Kerzon's specific laundry soap is made in France using natural biodegradable oils. Efficient in the machine and wonderful for hand washes, it nourishes the most delicate fibers, preserves the beauty of your favorite clothes and provides your laundry with an extraordinarily efficient level of care that is adapted to the needs of your favorite textiles. Its natural formula guarantees your clothes a radiant cleanliness and vivid freshness.
The essentials
Softening and soothing formula
Ensures a dazzling clean for all purpose washing
Each sample enables 1 wash.
Perfect for the most sensitive types of skin
Machine and hand-wash friendly
Preserves the effectiveness of technical fibers of your textiles
Enriched with baking soda to neutralize bad smells
100% biodegradable formula in less than one month
Components
5-15% savon (soap), parfum (fragrance), amyl cinnamal, citral, citronellol, eugenol, limonene, linalool.
Legal labeling
Keep out of the reach of children. In case of contact with eyes, rinse immediately with plenty of water and seek medical advice. If swallowed, seek medical advice immediately and show this bottle.