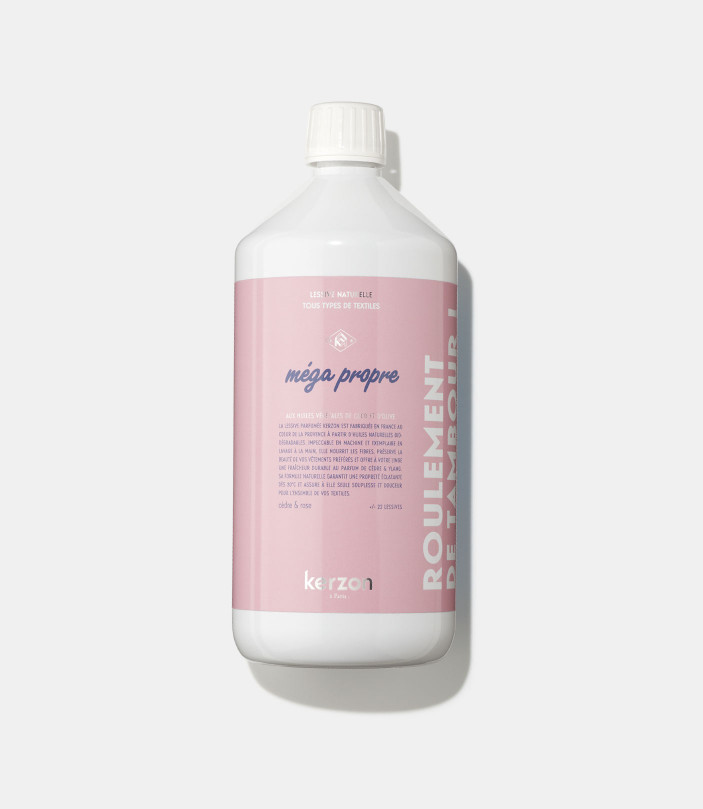 Laundry soaps
Méga Propre
Inspired by the memory of how your favorite detergent smelled growing up, the Mega Propre natural laundry soap infuses linens with iridescent top notes and a rose floral heart against a lightly ambered cedar base.

Tested under dermatological control, Mega Propre laundry soap is non-irritating and respectful of sensitive skin.
33.34fl.oz
Kerzon's fragranced laundry soap is crafted in the heart of Provence, France from natural biodegradable oils. Efficient in the machine and wonderful for delicate hand washes, this soap nourishes your clothes' fibers, preserves the beauty of your favorite garments, and provides your laundry with lasting freshness. Its natural formula guarantees a radiant cleanliness starting at all temperatures and protects your textile's supple softness day in and day out. 
The essentials
Softening and soothing formula
Ensures a dazzling clean for all purpose washing
Enables around 22 washes
Perfect for the most sensitive types of skin
Machine and hand-wash friendly
Bottle 100% recycled from household waste
A 100% biodegradable formula in less than 1 month
Method of use
Retrouvez dans notre journal un article complet pour une utilisation optimale <3
Components
5 ou plus, mais moins de 15% savon (soap), parfum (fragrance), glycerin, cocos nucifera (coconut) oil, olea europaea (olive) fruit oil, benzyl alcohol.
Legal labeling
Keep out of the reach of children. In case of contact with eyes, rinse immediately with plenty of water and seek medical advice. If swallowed, seek medical advice immediately and show this bottle.