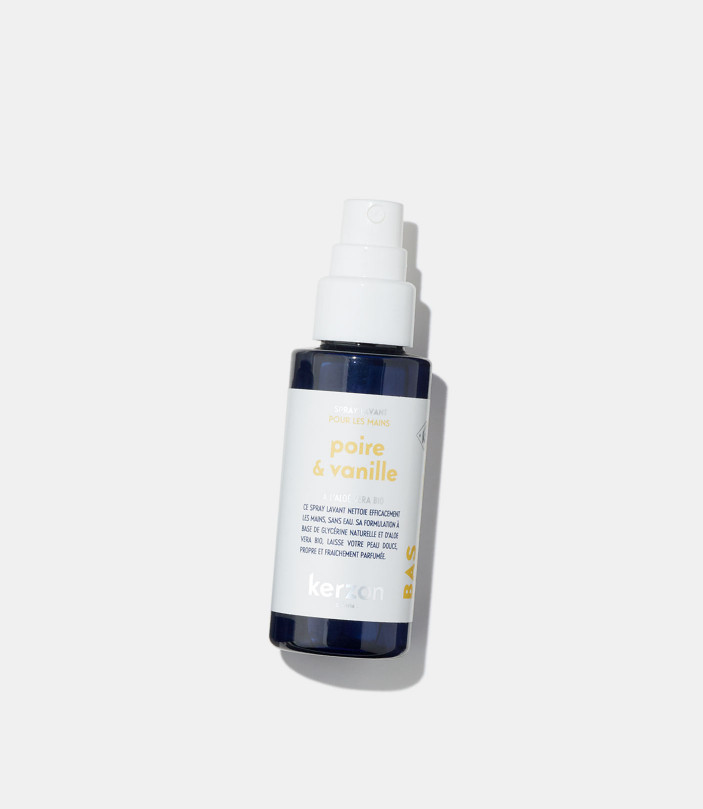 Hand cleansing spray
Poire & Vanille
Our no-rinse hand cleansing spray reinvents the hydro-alcoholic gel. This new daily companion is enriched by organic Aloe Vera and natural glycerin. Its advanced formula packed with vitamins and naturally virtuous active ingredients, it eliminates impurities gently, for skin that is clean, refreshed and soothed.


THE SCENT
Delights from the orchard, the pear is full of sugar and the apple juicy and crispy. They invite to the finest of nature's delicacies. The white musk balances the bold vanilla that melts on the skin. The sensation is caressing and smooth. Indulge in a moment of tenderness thanks to this enticing treasure trove of fresh fruit.
1.69fl.oz
This cleansing sprays, concentrated in alcohol (Ethanol 96 °), effectively clean the hands, without water. Enriched with organic aloe vera and natural glycerin, its advanced formula eliminates everyday impurities. In an instant, your skin is clean, soft and deliciously perfumed.
The essentials
Eliminate impurities from everyday life
Moisturizing and protective vegetable glycerin
Regenerating, nourishing and repairing organic Aloe Vera
Light, transparent, non-sticky texture
Concentrated at between 61% and 65% of alcohol (Ethanol 96°)
Formulated and made in France
Bottle 100% recycled from household waste
Method of use
Spray on your hands and rub together until fully absorbed (without rinsing with water).
Ingredients
Alcohol denat, Aqua(water), glycerin, aloe barbadensis leaf juice*, parfum (fragrance). Allergen-free. *Certified organic ingredient.
Legal labeling
Vaporizer. Keep away from eyes or irritated skin. Flammable. Do not spray on a flame or any incandescent material. Do not use near fire, flame or heat.