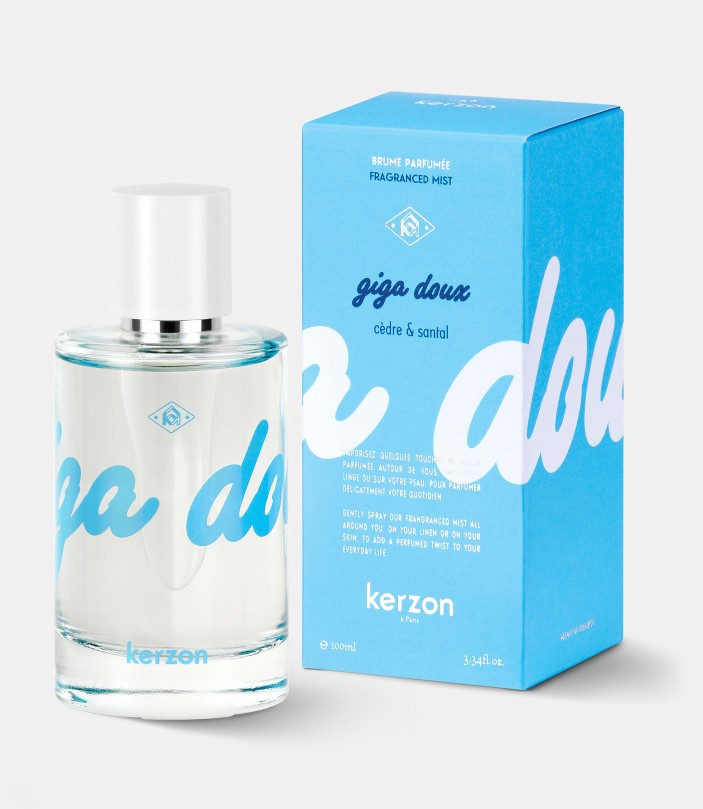 Fragranced mist
Giga Doux
Spray a few touches of this scented mist around you, on your laundry or on your skin, to subtly enhance your daily life and feel good wherever you are.


THE SCENT
Inspired by the cedar wood that is used to keep the linens in cabinets smelling fresh, Giga Doux reveals a woody fragrance with an aniseed head and a coconut milk heart, on a base of cedar and sandalwood.
3.34fl.oz
Spray a few touches of fragranced mist all around you, on your linens or on your skin, to delicately perfume your daily life. Envelop you in this subtle and invigorating fragrance, the promise of a unique scent to feel good wherever you are. The fragrances of Kerzon fragranced mists are made from a selection of essential oils, absolutes and high quality raw materials, faithful to the wonders of nature. They are packaged in France with great care, in a glass bottle made in a glass factory in the North of France, labelled as a Living Heritage Company.
The essentials
For linens, the home and the body
Imprim'vert labeled case, with low environmental impact
Recyclable paper case sourced from sustainably managed forests
High quality essential and absolute oils
Formulated and made in France
A light scent, like an eau de cologne
Recycled and recyclable glass bottle, made in France
Method of use
Gently spray our Fragranced Mist all around you, on your linens, or on your skin to add a perfumed twist to your everyday life.
Ingredients
Alcohol denat., aqua (water), parfum (fragrance), linalool, limonene, eugenol, cinnamal, citronellol, citral, isoeugenol, geraniol.
Legal labeling
Vaporizer. Keep away from eyes or irritated skin. Flammable. Do not spray on a flame or any incandescent material. Do not use near fire, flame or heat.