Dedicated to fragrances for clean linens, this collection is directly associated with clean and the fresh softness of cedar wood, which has been used for millennia to purify linens.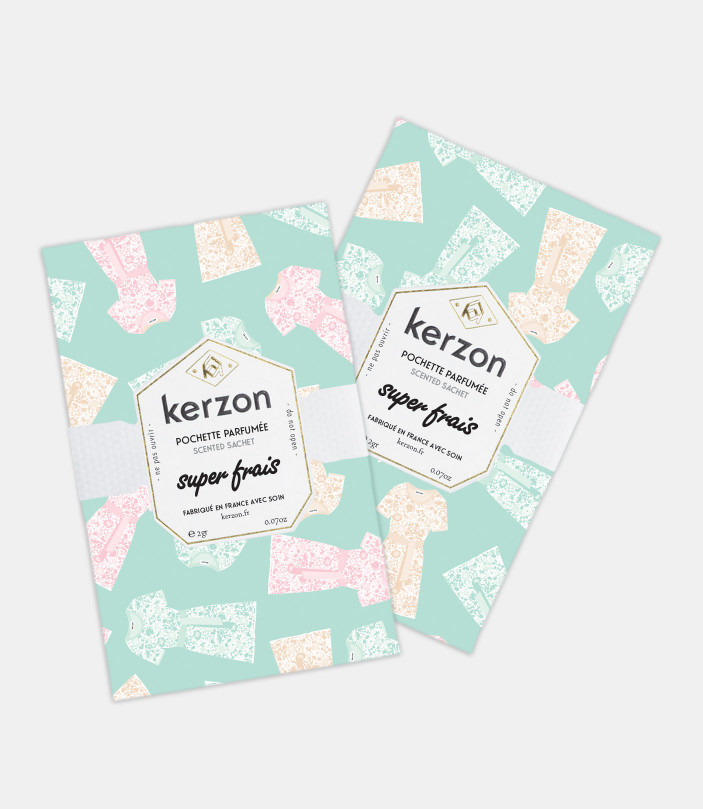 Scented sachets
Super Frais
Tucked away in a bag, a drawer or a suitcase, Kerzon's scented sachets release their enchanting fragrance to delicately aromatize your precious affairs. Like the sweet innocence of childhood, the Super Frais scented sachet brings back memories of baby perfumes and the pleasure of wrapping yourself in freshly washed sheets, with a slightly aniseed citrus head and a honeysuckle heart on a cedar and ylang base.
2 x 0.07oz
Slipped in a bag, a drawer or a suitcase, Kerzon's scented sachets release their subtle, enchanting fragrance over the course of several weeks to delicately perfumed your linens, drawers and precious affairs. They are made in our french workshop with care.
The essentials
Delicately aromatize your linens, drawers and precious affairs
Manufactured in a social rehabilitation establishment (ESAT*)
Handmade folding in Paris 13th
Low environmental impact and Imprim'vert labeled printing process
*Center providing care through employment for disabled adults
Method of use
With just a little shake, they will reveal all their potency and character.
Components
Contains: isoeugenol, alpha-amylcinnamaldehyde, dl-citronellol, 2-methyl-3-(p-isopropylphenyl) propionaldehyde, phenylacetaldehyde, p-t-butyl-alpha-methylhydrocin- namic aldehyde, eugenol, geranyl acetate, benzyl cinnamate, d-limonene, citral, hydroxycitronellal, citronellal, peru balsam oil, benzyl salicylate, geraniol, 3 and 4-(4-hydroxy-4-methylpentyl)-3-cyclohexene-1-carboxaldehyde, 3-methylcyclopentadece-none.
Legal labeling
WARNING: Read label before use. Do not open the scented sachets. Keep out of reach of children. If medical advice is needed, have product container or label at hand.