Paris is always festive !
A marriage proposal in the Tuileries, a sweet snack in the Luxembourg Gardens, an improvised concert in the heart of the Buttes Chaumont park, or an afternoon of shopping in Palais-Royal… the Flâneries collection is inspired by these special "only in Paris" moments, the city where every memory has its own fragrance.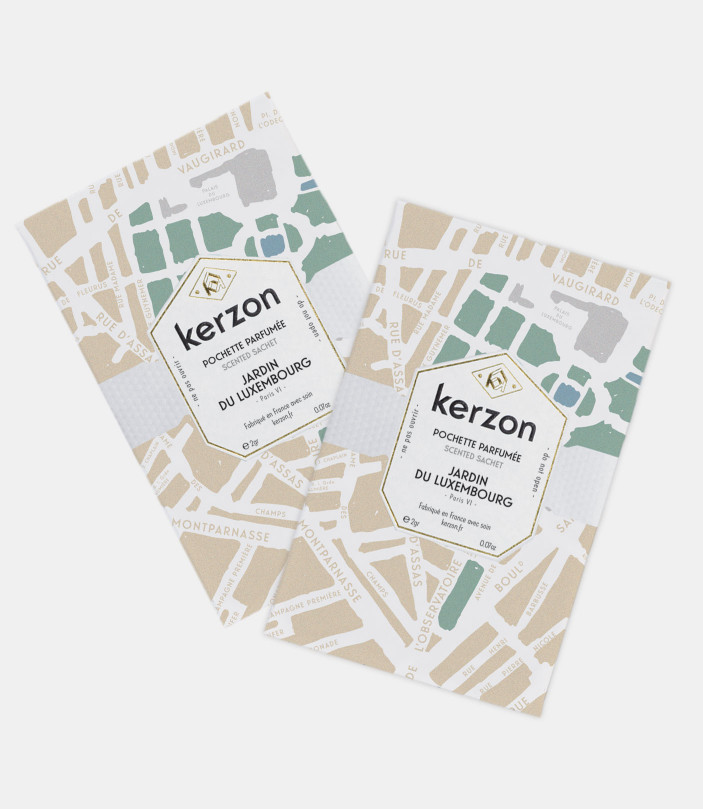 Scented sachets
Jardin du Luxembourg
Tucked away in a bag, a drawer or a suitcase, Kerzon's scented sachets release their enchanting fragrance to delicately aromatize your precious affairs.


THE SCENT
Like the memory of an after-school saunter to go watch the boats on the "Luco" basin, the Jardin du Luxembourg scent reveals a head of green almond with a heart of lime and lilac on a honey base. A nod to the garden's many beehives.
2 x 0.07oz
Slipped in a bag, a drawer or a suitcase, Kerzon's scented sachets release their subtle, enchanting fragrance over the course of several weeks to delicately perfumed your linens, drawers and precious affairs. They are made in our french workshop with care.
The essentials
Delicately aromatize your linens, drawers and precious affairs
Manufactured in a social rehabilitation establishment (ESAT*)
Handmade folding in Paris 13th
Low environmental impact and Imprim'vert labeled printing process
*Center providing care through employment for disabled adults
Method of use
With just a little shake, they will reveal all their potency and character.
Components
Contains: piperonal, alpha-pinene, geranyl acetate, d-limonene, citral, beta-pinene, farnesol, dl-citronellol, benzyl salicylate, geraniol, nerol, 2-methyl-3-(p-iso-propylphenyl)propionaldehyde, alpha-amylcinnamaldehyde, hydroxycitronellal, 3 and 4-(4-hydroxy-4-methylpentyl)-3-cyclohexene-1-carboxaldehyde, p-t-butyl-alpha-methylhydrocinnamic aldehyde.
Legal labeling
WARNING: Read label before use. Do not open the scented sachets. Keep out of reach of children. If medical advice is needed, have product container or label at hand.